Businessman Hopes to Share Economic Lessons from Native Germany
Posted on June 11, 2017
by JIM WORKMAN For The State Journal · July 10th, 2017
Although Jens Kiel himself was made in Germany, as the name of his business proudly states, he also has a passion for his adopted home of West Virginia.
Made in Germany, Kiel's Charleston marketing and creative strategy firm, has become involved with the Charleston Area Alliance for the past several years. The most recent effort may draw upon similar economic experiences in Kiel's native Gelsenkirchen, Germany.
Kiel's trip to Germany in May is leading to collaboration between the two cities.
"This is the beginning, a spark of sorts," Kiel said. "The meeting was about making a connection."
Kiel said while growing up in Germany, he witnessed a change in structures — both in economics, as well as culture.
In 1970s Germany, the coal industry was not able to compete with oil and gas due to higher mining costs and foreign competition, Kiel said. Its steel industry was also in decline. Technical progress in ore processing led to even less coal being used, and the job losses forced the local economy into a deep crisis.
As an adult, he sees similarities in modern day West Virginia.
"Structural change was needed (in Germany)," Kiel said. "It took collaboration on both city and state level between government, educational institutions, employers and business development entities to make this change a reality."
An agreement between the coal industry and the regional power companies was implemented to provide funds to finance the reeducation of the working population, Kiel said. Federal and state grants were used for the creation of programs that secured progress over decades.
"While some cities adapted well to the change and became metropolitan beacons of trade and administration, others did and still do struggle," Kiel said.
Adapting and perhaps adopting similar plans could aid the Mountain State, Kiel said. On his May trip, Kiel met with Christian Streege of the IHK Nord Westfalen, a chamber of commerce in Gelsenkirchen. He took brochures and guides from the Charleston Convention and Visitors Bureau and data from the Charleston Area Alliance.
It was an introductory meeting already yielding fruit.
Charleston Area Alliance CEO Matt Ballard and Chris Ferro, vice president of economic development, said they stand behind Kiel's idea of bringing officials from the regions together for shared goals.
Ferro and Kiel met this week to begin planning. Coincidently, Ferro is heading to Germany within a month for a trade show.
"It's a world economy now, but it still comes down to relationships," Ferro said.
Ferro said there are similarities in the "sister cities" — moving from an energy industry to service industries, and things "won't happen overnight."
But he remains positive.
"We are transforming, preparing for the future," Ferro said. "It will be interesting to share experiences. We can share our entrepreneurial spirit and the benefits of having a young professionals group, such as Generation West Virginia."
Skype meetings and webinars are being planned, with members of both chambers sharing their experiences, comparing achievements and collaborating on solutions.
"The next steps will lead us to more details and shared goals," Kiel said. "I am excited about the opportunity and hope that we can expand this from the city level to the state level — and I hope that the people of West Virginia will share this excitement."
Charleston expects a delegation from Germany to come to town, with CAA members also having an opportunity to visit Europe.
An exchange of delegations is planned, with a goal of finding new revenue streams like tourism, know-how-transfer and business cooperation.
Germans will be greatly interested in Wild, Wonderful West Virginia's tourism options, especially the outdoors, Kiel said.
Hunting in Germany is an expensive hobby. But in West Virginia, tourists could enjoy whitetail deer hunting, off-road driving and whitewater rafting while using the Charleston area as a hub for their activities, he said.
"There are great opportunities," Kiel said. "We just need to keep the dialogue going. I believe there are more than 3.5 million people in Germany who would be interested in traveling to West Virginia."
Recent economic investments in South Carolina by German companies such as BMW can be shared in West Virginia too, Kiel said.
"West Virginia is at a time and place where it is ready and willing for change," Kiel said. "It is ready for alternatives. I'm pleased for an opportunity to connect my roots in Germany and give back to the people of West Virginia, where I've lived since 2005. It's come full circle for me."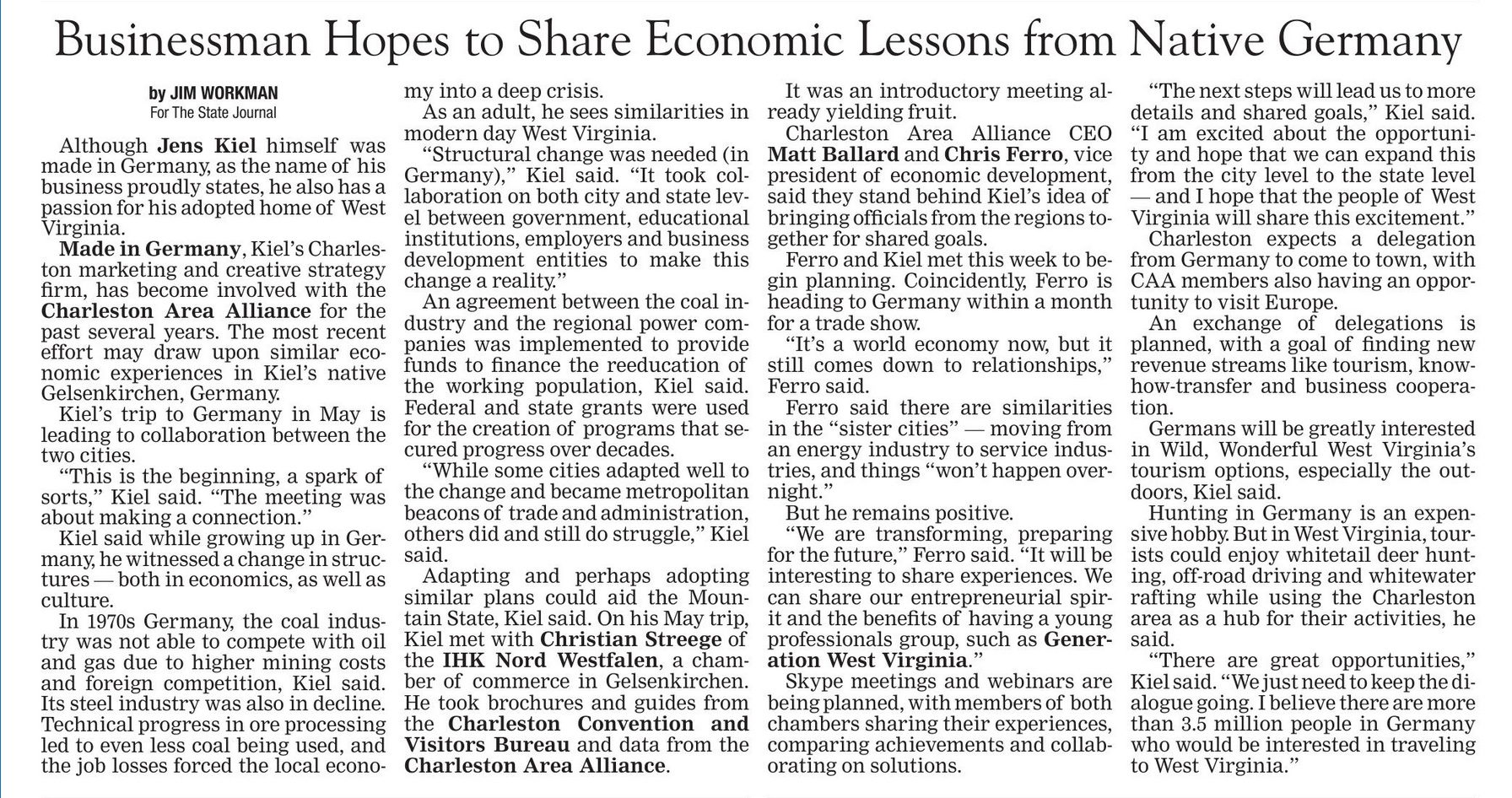 ---
No Replies to "Businessman Hopes to Share Economic Lessons from Native Germany"
---