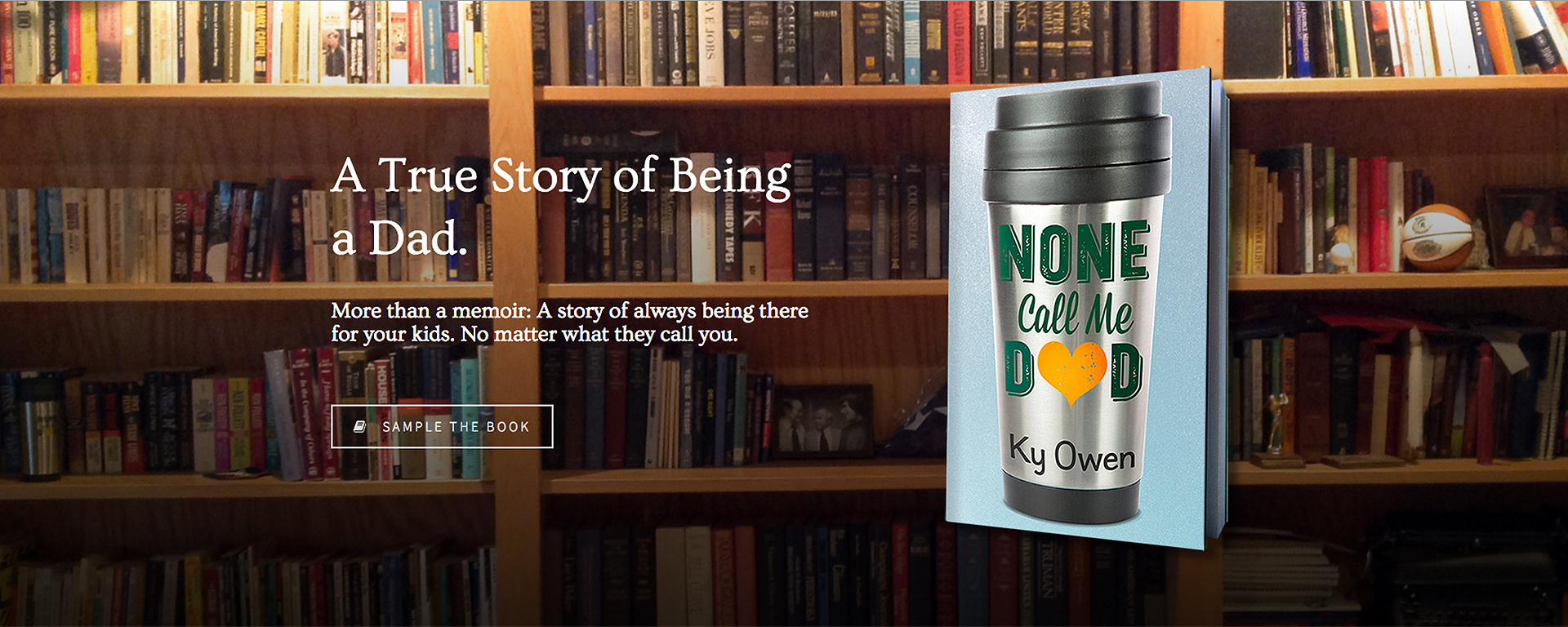 Case Study: None Call Me Dad
"Lawyer by Day, Author by Night" Ky Owen had a story to tell, but no idea how to promote his debut novel. We recognized the potential, provided a platform to interact with his audience, arranged the press coverage, developed the website, and coined his catchphrase. This is the story of "None Call Me Dad."
The Client
The Charleston attorney became an adoptive father on two weeks notice and eventually became a father to five other young people. "None call me dad," Owen says. "But they know that's who I am."
Owen and his wife, Tammy, had no plans for a family when they decided to adopt a six-year-old boy. Later, they became guardians to a teenage girl and took four other teenagers under their wings.
The Challenge
The palpable joy and angst experienced by adoptive parents are revealed from a father's point of view in None Call Me Dad, a memoir that we released February 2016 at Charleston's Taylor Books and online.
Author Ky Owen was looking for a publicist and help with marketing his debut novel, a real-life story, told with no holds barred and sharing the ups and downs with poignancy and humor.
The Solution
We accompanied Ky Owen through the "gestation period" of his debut novel, from the first draft to the launch party. We built a social media environment where the author, characters, and readers have been carrying a dialogue since 2015.
The website showcases his work, invites to read a chapter or two, and provides a platform where the author continues telling the stories after the book launched.
The Story So Far
None Call Me Dad charts a journey that turns into a virtual roller coaster ride of parenting an ever-changing alternative family. With unabashed honesty and a unique writer's voice, author Ky Owen tells about facing the challenges of truancy and Type 1 diabetes, hopping trains and "flying a sign," and kids finding their way on their terms. He also takes readers along on father-son trips to March Madness and the Rose Bowl, and father-daughter weekends on Broadway in Nashville and the French Quarter of New Orleans.
"None Call Me Dad is a compelling opus," writes Kay Goodwin, Cabinet Secretary for the West Virginia Department of Education and the Arts. "A delightful read by a budding West Virginia author."
Richard "Ky" Owen is a partner with Goodwin & Goodwin, LLP, in Charleston. He holds a B.A. in journalism from Michigan State University and a J.D. from Hamline University. Coming from a family of writers, he considers himself a "writer by birth." None Call Me Dad was his first book, and merely an idea when he approached Made in Germany in the Spring of 2015.
Founder Jens Kiel had been friends with Owen for years, and sampled his short stories before, instantly recognizing the potential. Owen's descriptive style, paired with unique attention to detail, is an open invitation to a broad audience – from the casual reader to the prospective adoptive parent, looking to learn more about the subjective experiences.
The challenge, as with any first-time author, was to develop an audience before the book release, and to get the word out – establishing the author's credibility, creating anticipation, satisfying the first interest, and leave the audience wanting for more. The year-long campaign answered these.
---
"With excellent ratings on Amazon, the Apple Store, Barnes and Noble, and Goodreads, the novel has become a staple in its category."
---
We assisted the author in establishing the publishing framework, accompanied him as he learned about the self-publishing process, developed deliverables like bookmarks and business cards, and built a following on Facebook. As we approached the book's launch date, we provided press releases and a digital press kit to local and national media and achieved international recognition of Owen's debut work.
The launch party at Taylor Books was a huge success. With over 150 attendees and selling out all available copies of the book, we laid the foundation for a steady demand. With excellent ratings on Amazon, the Apple Store, Barnes and Noble, and Goodreads, the novel has become a staple in its category. The Charleston-Gazette wrote about author and book on Fathers Day 2016, and the News and Sentinel reported about the Owen family ties to the Parkersburg publication.
Author Ky Owen currently works on the sequel to None Call Me Dad, and we are looking forward to accompanying him on the next leg of his journey with persistence and our marketing expertise.
As a bonus, we'll get to read his new work, too. And so should you!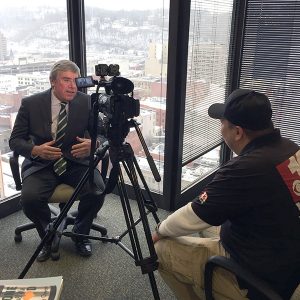 Writing a book came easy for me. Not so marketing. Made in Germany created a social media strategy to promote None Call Me Dad and designed the platform. And Jens personally ensures that I'm following through with the strategy. #JensIsMyAdMan
Richard 'Ky' Owen, Author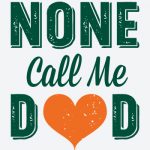 Nonce Call Me Dad LLC
2580 Benson Drive
Charleston, WV 25302
tel (304) 545-5946