Case Study: WV SBDC CARES Project
The West Virginia Small Business Development Center assists entrepreneurs and small business owners at every stage of the business lifecycle. Throughout 2021 and 2022, Made in Germany's Founder/CEO Jens Kiel served as the Subject Matter Expert in Brand Marketing for the WV SBDC CARES Business Recovery Project, helping their clients pivot to the challenges posed by the COVID-19 pandemic.
The Client
The SBDC is a nationally recognized resource for business consulting, and they play a vital role in West Virginia's economic development. SBDCs provide no-cost business coaching and low-cost training to new and existing businesses and play a critical role in helping small businesses start, grow, and thrive. Most of their staff have direct small business experience or own a small business. As a result, they understand the challenges and rewards of entrepreneurship.
The Challenge
The 2020 COVID-19 outbreak posed a challenge to West Virginia's small businesses. The WV Small Business Development Center (WV SBDC) in 2021 prepared to strategize with entrepreneurs and develop individualized plans to help their business recover from the COVID-19 pandemic and build a more resilient business model that adapts to customer needs and expectations. The team of knowledgeable business coaches stood ready to assist their clients.
The Solution
Through the WV SBDC CARES Business Recovery Project, small businesses from March of 2021 to December 2022 had access to the SBDC's consulting partners, known as Subject Matter Experts (SMEs), who leveraged and enhanced the SBDC business coaching network and provided additional technical expertise to small businesses that had experienced supply chain disruptions, staffing challenges, a decrease in gross receipts or customers, or a closure as a result of COVID-19.
The Story so Far
In March 2020, President Donald J. Trump signed a $2.2 trillion economic stimulus bill into law, responding to the economic fallout of the COVID-19 pandemic in the United States. The Coronavirus Aid, Relief, and Economic Security Act, also known as the CARES Act, enabled states and their corresponding agencies to provide emergency assistance and health care response for individuals, families, and businesses affected by the 2020 coronavirus pandemic. 
As a result, the WV SBDC launched the CARES Business Recovery Project in March 2021 to provide their existing and future clients with assistance and resources to counter the challenges posed by the COVID-19 pandemic. From marketing to government contracting assistance, business operations, and disaster planning to cybersecurity awareness and risk management, accounting, and human resources management, the SBDC hired Subject Matter Experts to assist clients with technical assistance, advice, and skill- and know-how transfer. Many businesses in the Mountain State could not operate as before – those received business valuation, succession planning, and selling advice.
Made in Germany was tasked to provide know-how in positioning, brand awareness, brand development, and growth of social media engagement, as well as technical assistance in content development, graphic design, and digital marketing. Using our proprietary eight-step process, we helped sixteen businesses from New Martinsville to Princeton shape their brand, strengthen their offerings, reach new customers, grow their online presence, and continuously increase revenue.
Client Success Stories
The following examples demonstrate the quality of services rendered and show the impact and benefit of the business recovery project. We invite you to examine the results of our work, read the business owners' testimonials, and consider if your business can benefit from similar work.
Todesko Bookkeeping
Lauren's company is a friendly and family-focused bookkeeping business, helping small business owners and operators record their financial transactions so they can focus on running theirs. They offer much flexibility, working on-site and virtually at a schedule that accommodates the clients' busy calendars. Her love for West Virginia, her passion for business, and her desire to serve fellow small business owners are the building blocks of her business relationships.
Made in Germany was tasked with brand and content consulting and the development of deliverables. The strategic analysis yielded a new value proposition, differentiation from the local competition, and the direction for stronger messaging. Unique content and structure for the website, telling the founder's story and business offerings, two rack cards serving as leave-behinds, and solid social media platforms put the client ahead in the competition and regional market. Happy with our solutions, Lauren Todesko stated: "You've helped me a great deal, and I appreciate it."
---
"You've helped me a great deal, and I appreciate it." -Lauren Todesko
---
Eye Candy Beauty Supply
Like many American business success stories, their story begins in a garage as a family affair. But it took Tiffany Walker Samuels, her daughters Justice and Jazmin, sons Jenesis and Jeremiah, and the support of a whole community for their dream to become a reality. As a result, Eye Candy Beauty Supply today helps women look and feel their best, regardless of age, identity, or background. In a safe and open-minded environment, they use their expert knowledge of hair, care products, and accessories to bring out the clients' inner beauty – because these matter.
The SBDC asked Made in Germany to assist in repositioning the company to reach new audiences, update the website structure and content, and develop a stronger brand and message. Jens Kiel and Tiffany Walker Samuels worked closely in the discovery and messaging phases. The results were building blocks for an in-detail value proposition of the business's primary audiences, mission, vision, and future company messaging—numerous call-to-action paragraphs, slogans, and a convincing origin story fortified the Eye Candy Beauty Supply brand. Updating the logo, fonts, and colors, we defined a unique visual brand to help the company get traction, grow and succeed.
Focusing on online, curbside, and "at-home" services, we updated the e-commerce website to communicate the lively atmosphere, great products, and company values: In less than six hours, we executed website setting and SEO changes, produced graphics, researched, and formatted stock photography, wrote additional content, and updated the structure and appearance of the website and Social Media platforms. Owner Tiffany Walker Samuels used the new messaging to apply for several grants in 2022. She will invest funds recently awarded to update the store signage, employee clothing, and print materials. As the company grows, she still shares the kindest words of endorsement for our work. In the meantime, Bridgeport's WDTV visited with Eye Candy and interviewed co-owner Justice Samuels. We invite you to watch the interview below:
---
"In 10 years, we'll hope to own multiple stores and salons – to make Eye Candy a chain, to be honest." -Justice Samuels"
---
Appalachian Gallery
Founded in 1980's Morgantown, the Appalachian Gallery quickly became a site for showing and promoting art created by West Virginians. In 2004, when Laurie Nugent and Penelyn Van Orange took the reins, they expanded the offerings with handblown glassware by Blenko and Ron Hinkle Glass. As the sole owner and operator of the Appalachian Gallery, Penelyn VanOrange now stays the course she and her partner set: To grow the local artists' reach and exposure and familiarize visitors to the gallery with creations, techniques, and means of expression of the creative minds of the Mountain State.
Made in Germany proposed to review the gallery's history and challenges, improve messaging and origin story, strengthen and redefine the brand, create deliverables, and implement a social media brand. Working with the client and SBDC coach, we conducted a strategic analysis, defined current customer segments and their wants and needs, and updated the mission and vision statement. As a result, the new origin story pays homage to the gallery's history, provides a nod to co-owner Laurie Nugent, who passed away in 2022, and invites all audiences to come and visit the "Sandcastle Building" on Morgantown's Walnut Street.
We updated and standardized the gallery's timeless logo and designed a series of business cards, showcasing the different offerings and making for a remarkable physical deliverable. In addition, we made the website more inviting by standardizing fonts, font sizes, and categories on the landing page. So Ms. Van Orange: "Great job! Nice to see the website changing. Thank you so much!" We are enthusiastic about the outlook for the future of the marketing aspect of Appalachian Gallery; Ms. VanOrange now has the message, content, and tools to reach new audiences and engage with them to grow her revenue and the gallery's customer traffic.
---
"Great job! Nice to see the website changing. Thank you so much!" -Penelyn VanOrange
---
Pine Knot Soapworks
Betsy Porterfield of Athens, West Virginia, founded Pine Knot Soapworks to monetize her passion – making great soap from the finest ingredients. A home-based artisan soap manufacturer nestled in the rugged hills of West Virginia, she utilizes over nine years of experience to capture the scents and colors of the Mountain State in her ever-changing products, crafted from vegan natural oils, clean triglycerides, sodium hydroxide, and other alkalis with exclusive perfumes and eclectic coloring. Creative pouring techniques give her soap bars their characteristic look. All true to her motto – happiness is homemade!
Made in Germany worked with coach Harold Patterson and the founder on developing a brand matching her quality products, deeply connected to a lifetime of service for and in nature – the Porterfields both dedicated their careers to serving the Mountain State's Division of Forestry and Department of Natural Resources. We wrote the brand's origin story and messaging, designed a unique logo, and crafted deliverables to showcase the offerings at pop-up markets, fairs, and local events. A website URL forwarding to the Facebook page makes browsing and ordering a breeze. Moreover, four primitive and novelty stores now carry her products, while her online followers conveniently place mail-order or pickup orders.
After a successful 2022 season, Mr. Porterfield almost sold out all her product. She is delighted with our services, as her testimony to the SBDC shows: "The assistance received from Made In Germany has been tremendous! I am still reviewing my many notes and incorporating more tips into my business activities. Mr. Kiel has put my small business miles ahead of where I was before and has been a true motivator. The whole experience has been priceless. I recommend this program to anyone."
---
"Thank you, Jens, for all your efforts on my behalf. Your support and advice are invaluable to me. -Betsy Porterfield"
---
Brandies Bouquets
Owner Brandie Siers designs bridal and bridesmaid bouquets, grooms and groomsmen boutonnieres, and additional floral décor for her customers – and in close cooperation with them. With a decade of experience offering individual planning, preview, assembly, packaging, and shipping of premium artificial flower arrangements, she creates unique products for milestone events. The couples she has served agree: By choosing us, Brandies Bouquets, they have one less thing to think about and a lot to look forward to.
Coach Harold Patterson tasked Made in Germany with brand development, positioning, and message development for the Southern West Virginia faux floral design and creation service. The strategic analysis revealed great regional and national opportunities and the general direction for the creative process. Additionally, the owner's color and style preferences influenced the selection of colors and logo font, and her work yielded the stylized rhododendron bouquet logo element. The result is a timeless visual brand ready to scale with the company's growth.
The website's URL www.brandiesbouquets.com first forwarded to the Facebook page, where Brandie's daughter models the stellar creations to the delight of all current and prospective customers, followers, and supporters of the up-and-coming company. Now it leads straight to her new and beautiful website. Voted The Best of WV Weddings 2022, we do not doubt that Brandie Siers and her small business will go far. Likewise, she expressed her gratitude for our services and deliverables, stating, "I think it all looks great. I love the options. Thank you so much."
---
"I love the options. Thank you so much." -Brandie Siers
---
Jimmies Restaurant
Jimmies Restaurant is the essential eatery on Mercer Street, and it has been for a hundred years. Kevin Hall and his wife 2022 successfully resurrected the gem in their vision, preparing a place of cheer where everybody is welcome and nobody is a stranger. Regulars and soon-to-be regulars cheer the classic diner fare with a twist they serve up at JIMMIES. Elvis himself would choose the Grilled Peanut Butter and Bananas sandwich, and you haven't lived until you tried the French Toast Bread Pudding with candied bacon, caramel nuts, and whipped cream from their brunch menu. In the vein of Happy Days, the signature burgers and classic milkshakes will have you echo Wolfman Jack and the Big Bopper.
Made in Germany worked with coach Harold Patterson and owners Kevin and Jamie Hall on developing their brand, theme, and menu and preparing for the restaurant's opening. The couple had already prepared creative ideas – the stylized hamburger and iconic knife-and-fork work mean business and are here to stay. Based on the historic neon signage, we developed a logo, font, and color set to suit the 50s diner style. The menu echoes classic Americana with modern influences, and the origin story and Facebook platform reflect the owners' intention, creativity, and determination.
As the launch date approached, Made in Germany reached out to Southern West Virginia's media, press, and online communities with a digital press package. The launch went well, and business has been humming since May 20th, 2022. Using a social media engagement plan, the owners frequently engaged with their audiences, documenting daily specials and seasonal favorites with many delicious photos. We consider the project a stellar success, and Jamie Hall agrees: "Thank you so much for everything. It all looks great. You have been unbelievably helpful. Your vision is amazing; you took what we were imagining and made it a reality. We greatly appreciate you and your talents!" Watch Kevin Hall talk about their success story and see how the SBDC CARES Project has helped their business:
---
"You have been unbelievably helpful. […] We greatly appreciate you and your talents!" -Jamie Hall
---
Conclusion
According to the WV SBDC, the centerpiece of the WV SBDC's CARES Act Project is the engagement of a team of industry expert business consultants (SMEs) providing specialized services to businesses affected by the pandemic. Based on their 2021 Annual Report, marketing accounted for 35% of the assistance:
For Made in Germany, the opportunity to support small businesses all over the mountain state independent of their scale and budget will always be a memorable experience and another milestone of contribution to the well-being of the West Virginia economy.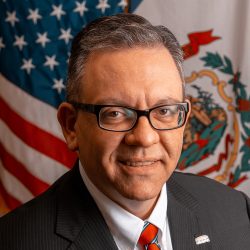 "My sincere thanks for all the great work you have done and the invaluable assistance you have provided to the small businesses in WV. This has been a very successful project, one I would like to duplicate in the future as funds become available."
Steve Johnson, SBDC State Director
WV Small Business
Development Center
State Capitol Complex
1900 Kanawha Boulevard, East
Building 3, Suite 600
Charleston, West Virginia 25305